How, When and Why Can We Trust Our Brains?
Location:
Psychology 1312
Daniel Dennett, Tufts University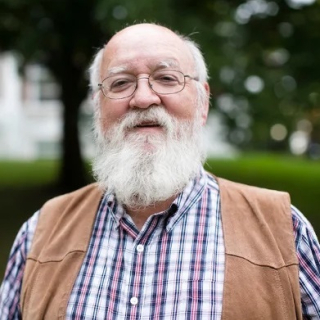 Description
Daniel Dennett is University Professor and Austin B. Fletcher Professor of Philosophy, and Director of the Center for Cognitive Studies at Tufts University. Dr. Dennett's research centers on the philosophy of mind, philosophy of science and philosophy of biology, particularly as those fields relate to evolutionary biology and cognitive science. He received his DPhil at Oxford under the supervision of Gilbert Ryle, and he began teaching at UC Irvine in 1965. In 1971 he moved to Tufts, where he has taught ever since, aside from periods visiting at Harvard, Pittsburgh, Oxford, the École Normale Supérieure in Paris, the London School of Economics and the American University of Beirut. He is currently a member of the external faculty of the Santa Fe Institute and New College of the Humanities in London. Dr. Dennett is the author of Darwin's Dangerous Idea (1995), Freedom Evolves (2003), Breaking the Spell: Religion as a Natural Phenomenon (2006), Intuition Pumps and Other Tools for Thinking (2013), and many other books and scholarly publications. His most recent book, From Bacteria to Bach and Back: The Evolution of Minds, was published in 2017. The Unbelieving, a Broadway play about clergy members who stop believing in God, is based on interviews conducted for the book Caught in the Pulpit: Leaving Belief Behind (2013) by Dr. Dennett and Linda LaScola. Dr. Dennett has received numerous awards and honors as a tribute to his groundbreaking research and academic contributions, including a Fulbright Fellowship, a Fellowship at the Centre for Advanced Studies in Behavioral Science, two Guggenheim Fellowships and a Fellowship of the Committee for Skeptical Inquiry. In 2004, the American Humanist Association presented him with the title of the Humanist of the Year. In addition to that, he is a recipient of a Human Laureate of the International Academy of Humanism.
Abstract
If we didn't think we could trust our brains, we wouldn't bother with inquiries like this. But our brains are composed of cells that don't know much of anything and there's no magical Self in the control room. Can we bootstrap our way to a well-grounded conviction that we know at least much of what we think we know?