Is a Society that is Welcoming to LGBT Individuals Seen as Hostile for Christians? Examining Religion/Sexual Orientation Zero-sum Beliefs
Clara Wilkins, Washington University in Saint Louis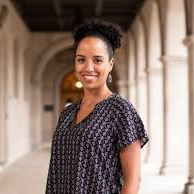 Description
Clara L. Wilkins, Ph.D., is Associate Professor, Psychological and Brain Sciences and Affiliate, Women Gender and Sexuality Studies at Washington University in St. Louis. This colloquium is sponsored by the UCSB Department of Psychological & Brain Sciences and co-sponsored by the SAGE Center for the Study of the Mind.
The abstract of Dr. Wilkins' lecture follows:
Several conservative Christian politicians have implied that lesbian, gay, bisexual and transgender (LGBT) individuals impede Christians' ability to practice their religion, and consequently proposed "religious freedom" legislation to combat anti-Christian bias. My talk will examine whether Christians perceive a zero-sum relationship and conflict between the bias their group experiences and bias experienced by LGBT individuals. On average, Christians report perceiving that anti-LGBT bias has decreased over time and that anti-Christian bias has correspondingly increased: in other words, that gains for one group come at a cost for the other. Christians' zero-sum beliefs (ZSBs) are heightened in response to perceiving a changing cultural climate in which Christians' influence is waning. ZSBs are driven by symbolic threat and amplified by considering religious values. A religious acceptance intervention successfully lowers ZSBs for mainline Christians. I will discuss current and future research directions as well as implications for sexual prejudice. 
To receive a Zoom Meeting ID for this talk, please enter your contact information here.